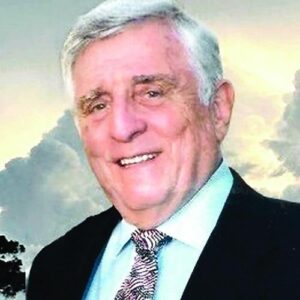 August 21, 2023
William Lane, a beloved husband, father, grandfather, and great-grandfather, passed away at his home on Nantucket, Monday, August 21, 2023 at the age of 96. He leaves behind a legacy of love, strength, and service that will forever be cherished by his family and friends.
Born on March 12, 1927, in Brooklyn New York, William grew up with a deep sense of patriotism and a desire to serve his country. At the age of 19, prior to going to Syracuse University, he enlisted in the United States Air Force.
William was blessed with a loving family. He met the love of his life, Marilyn, and they were married for 50 years. Their marriage was a true partnership, built on love, respect, and shared values.
William was a devoted father to his daughter Betsy Tellepsen and step-father to Debi Baydush, Stacey Singer (Jeffrey) and Lee Baydush (Lisa). His grandchildren Matthew Simon (Liz), Michael Simon, Taylor Simon (Matt Stevens), Dani Morrison (Ian), Jake Forman, Stephen Baydush (Maxine), David Baydush, Sarah Mann (Garret), Sam Tellepsen, Emma Tellepsen, Charlie Tellepsen and great-grandchildren Madx Morrison, Harper Mann and Marilyn Simon.
William's memory will forever be cherished by his loving and extended family.
William started his career as a CPA before transitioning to an automobile dealer. He served as Chairman of the Washington Area New Car and Truck Dealers as well as a board member of Glendale Insurance Company.
The funeral service was held on Friday, August 25, 2023.  Bill, together with Marilyn, was a long-time member of Congregation Shirat HaYam.