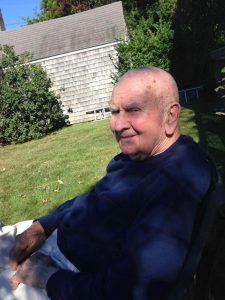 Morton Kaufman of Sharon, MA, passed away on February 3, 2021 at the age of 92. Born in Fall River in 1928, he was the son of the late Simon and Rose (Cohen) Kaufman. The family moved to Nantucket Island when he was 2 years old. His family ran Cy's Green Coffee Pot, a well known establishment on Nantucket for many years. He graduated from Nantucket High School in 1946 and graduated with a degree in History from the University of Vermont and a Masters in Education from Boston University.
He served in the U.S. Marine Corps stateside from 1950-1952, reaching the rank of sergeant. He was a teacher and then elementary school principal in Sharon for over 30 years. He believed in the nobility of teaching and education and was renowned for learning the names of all of students in the school after only a few months. An avid and outstanding baseball player in his youth, he loved swimming in the ocean, tennis and all things sports. But he also loved reading, theatre, music. He read the "New York Times" and the "Boston Globe" daily for over fifty years.
He is predeceased by his beloved wife and friend of over 60 years, Dorothy, and leaves his children, Robert and Julie, and four granddaughters. In lieu of flowers, donations may be made to the Sharon Public Library or the charity of your choice. The family is hoping to have a celebration of his life when the weather is warm and the world is on the mend.
Mort and Dorothy were founding members of Congregation Shirat HaYam. Mort was an Emeritus board Member.