Hagaddah means "narrative." This year, inspired by our own Rabbi Gary Bretton-Granatoor's 'How to Plan a Perfect Seder' program, we asked some of our synagogue members to share narratives from their own personal seders.
Meg Flax: Growing up, our Seders were literal Jewish torture. My grandfather stood and recited what seemed like every word in Hebrew, which none of us understood. My cousins and I would sit at the table in our "Sunday best" counting the minutes until the matzoh ball soup was served. It wasn't until I began having Seders of my own that I realized how much more fun and how much more meaning I could find in a service in which everyone could participate. When the kids were in preschool, we used a preschool Hagaddah, and we changed Haggadahs over the years, so the Passover story was always accessible to them. I feel like I discovered the beauty and joy of Passover along with my children.
Phylicia Cook: This year's seder was so special to me in so many ways; our first in our new city, the first in person seder in two years, and most importantly my son's first Passover. Below is a photo of him too close to bed time with a Passover plague mask, as well as our table. Since two of my closest friends spent the second seder with us, we deemed it appropriate to add Tums to the seder plate since we all turned 30 during the pandemic!
Sharon Conway: Our extended Conway family and the extended Lazowski family have shared Passover Seder every year for the past 65 years. A highlight this year was when sisters and Holocaust survivors Ruth and Toby sang the partisan song of hope and survival.
Esta-Lee Stone: I have thought a lot about how the process of creating a Seder has been passed on through, at this point, three generations of our family and has remained in tact. TRADITION TRADITION. FROM ONE GENERATION TO THE NEXT. First learning how to create a meaningful Passover Celebration from those who have created many before me by watching the preparation, asking questions, and very importantly helping. Then choosing and accepting the responsibility for creating the Seders and making those traditions my own by modifying and adding, expressing my perception of what's important and experimenting for many years with creating a meaningful Seder spiritually and aesthetically. There are many stories and jokes in my family told frequently about what I tried that worked and what were disasters. The experiments and stories are part of our tradition. Then passing my traditions on to the next generation who chooses and accepts the responsibility for the Seders using their recollections, and proudly accepting their interpretations of creating a meaningful Seder; offering advice and assistance when asked.
Rabbi Gary Bretton-Granatoor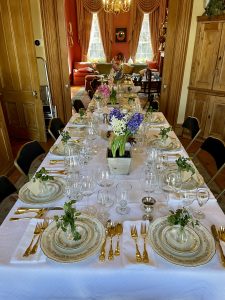 Nancy Yanofsky & Ed Brown: Our seders were wonderful. We set a beautiful table, in part inspired by Rabbi Gary's suggestion of placing the parsley in shot glasses with salt water at each place. We used a Haggadah from Haggadah.com (the Liberal Haggadah) and supplemented it with prayers for Ukraine. Sunflower seeds were added to the symbolic food on our table, since the sunflower is the national flower of Ukraine. We also kicked off the evening with Six13's rendition of certain Billy Joel songs. The nights were memorable for many reasons, but mostly because we were able to be together around the table for a first time in a long time.
A picture of our table and the Ukraine prayers that we used are HERE. The Six13 Youtube can be found at: https://www.youtube.com/watch?v=t1k6HmUY6Zk
Elissa Oshinsky: Several years ago my sister in law suggested we write our name- date- one sentence on the day (weather, sporting events, current event, etc.) We wrote it in the blank page of the Inside cover.   Every year we distribute the siddurs and see who we get !   Some of our family has now passed on , grown up, etc. We love calling out whose names are in our book. 
Very sweet and poignant for our family.
Darren Sukonick: One of my favourite traditions of Passover is unpacking my seder china. The dishes were my bubbie's and are a pretty floral with 22K gold pattern.  Apparently, back in the "old days", when she went to the movie theatre, you could buy a plate or bowl for some small amount (25 cents? less?).  Over time, she acquired service for twelve including dinner plates, salad plates, side plates, soup bowls, etc.  Something about the slow and steady accumulation reminds me of my grandmother and her generation.  She was strong and determined and resilient.  Whenever things seem overwhelming around the holidays, I think of her (and her sister/sister-in-laws) doing everything for our 40+ attendee seders: preparing all of the food and washing every dish by hand (no dishwasher, no hired waitstaff). Although she passed away many years ago, I still feel her presence nearby every holiday.